AUDIOBOOK OF THE MONTH
---------- ----------
It is February and love is in the air! So naturally this month's suggestion is a romance!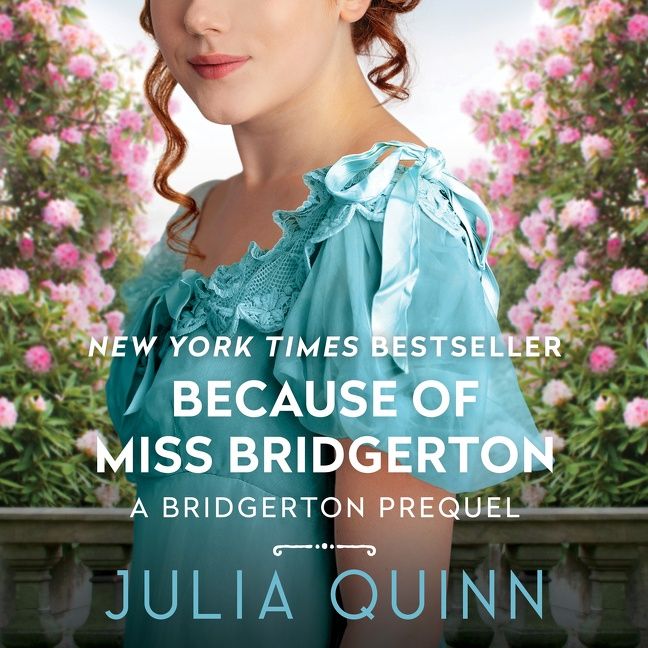 Because of Miss Bridgerton
by Julia Quinn. Performed by Rosalyn Landor. (2016)
Quinn's historical romance is clever, witty and thoroughly romantic and Landor's performance provides a delightful experience for the listener. As a child, Sybilla 'Billie' Bridgerton played endless games with George Rokesby's younger siblings, though not with George. He, older and the heir, was always distant and a bit arrogant. An unwanted episode draws them closer, causing each to see the other in a new light and opening them to the possibility of a different kind of relationship.
Landor's narration convey's perfectly the exasperation, enthusiasm, and romantic tension that listeners enjoy in a love story.
If you want more romance from Julie Quinn and Rosalyn Landor, try The Secrets of Sir Richard Kenworthy or A Night Like This. For another kind of Landor listening experience, check out Death Comes to Pemberly by P. D. James, read by Rosalyn Landor
---------- ----------
I am a big fan of historical biographies and love it when they are recorded by a great narrator. My suggestion for January 2017 is by one of the best in the audiobook business!
Hero of the Empire: The Boer War, a Daring Escape and the Making of Winston Churchill by Candice Millard. Read by Simon Vance. (2016)
Millard tells the story of young Winston Churchill's early military career with emphasis on his involvement in and escape from captivity during the South African Boer War. Vance's distinctly voiced narration is energetic and melodious, enhancing the details with impeccable British diction and character accents. He switches into Churchill's unique gravelly timbre whenever the budding politician is quoted in the text and employs individual accented voices for other British figures, various Boer soldiers, and an occasional American or two, making for an exceptional listening experience.
For more of Simon Vance try The King's Speech: How One Man Saved the British Monarchy by Mark Logue and Peter Conradi, read by Simon Vance. If you like Millard's writing style, try another her titles in audiobook by listening to The River of Doubt: Theodore Roosevelt's Darkest Journey by Candice Millard, read by Paul Mitchell.
---------- ----------
In December, I participated in the #libfaves16 tweetfest, posting about my favorite reads for 2016.
Four of my top ten titles last year were audiobooks and you can find them in the following blog posts:
Tweeting Your Top Ten Titles for 2016
and
RA Tip: Rounding Out My #Libfaves16 Top Ten
.
---------- ----------
Looking for
nonfiction

that reads like fiction

or titles by

an award-winning author

or

narrator? Here's a

narrative nonfiction

title from an award winning author

that is

narrat

ed by
one of Audiofile Magazine's Golden Voices ...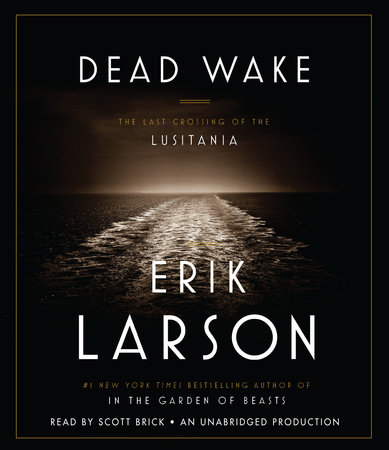 Dead Wake: The Last Crossing of the Lusitania
by Erik Larson. Narrated by Scott
Brick. (2015)
Although the ultim

ate

fate of the Lusitania if well-known, it is Brick's reading of th

e journey that entices the listener

. His dramatic narration

enhances

Larson's

story, taking the listener back to that point in time with rich historical details. The novel sheds new light on the political and military motivations of President Wilson and the British Admiralty

and

the individual accounts of

the

passengers, crew and officers of the

Lusitania

bring

s

them

back to life.
T

hose with an interest i

n exploring other historic

ships should give a listen to A Night to Remember: The Classic Account of the Final Hours of the Titanic by Walter Lord, narrated by Ma

rtin Jarvis.

And for more similar

ly themed

narrative nonfiction, try In the Kingdom of Ice: The Grand and Terrible Polar Voyage of the U.S.S. Jeannette by

Hampton Sides, narrated by Arthur Morey.
---------- ----------
For those who like a bit of spooky to go along with all the 'trick or treats

'

in October, take a

listen to ...
The

L

ast
American Vampire by Seth Graham-Smith. Read by

M

acLeod Andrews.
(2015)
The story is fast-paced, fun, and richly detailed with well-researched historical events and figures. Graham-Smith presents himself as the narrator of the tale using compiled, first-hand 'interviews' with centuries-old vampire Henry Sturgis. MacLeod Andrews'engaging performance ensures listeners are always aware who is speaking as he shifts between the two voices. Andrews also gives voice to a multitude of real historical personalities, smoothly transitioning into an appropriate accent for 'characters' such as Bram Stoker, Nikola Tesla, Theodore Roosevelt, John D. Rockefeller, Howard Hughes and even John F. Kennedy.
A similar plot line listen is Blood Oath by Christopher Farnsworth,

narrated by Bronson Pinchot

. And those who just can't get enough of MacLeod Andrews, there is Horror Stories: Twenty-Six Scary Tales by Jack Kilborn and J.A. Konrath, p

erformed by MacLeod Andrews.
---------- ----------
Carrying on with dual narrators and a slight romantic theme, for September I offer ...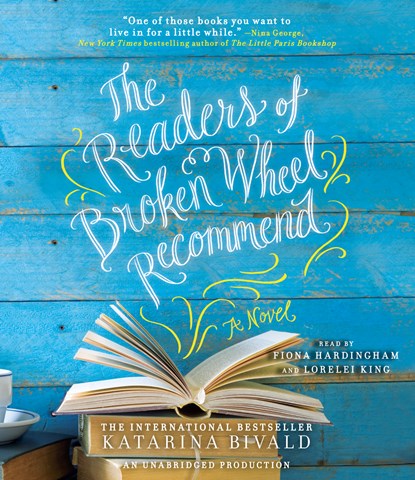 The Readers of Broken Wheel Recommend
by Katrina Bivald. Read by Fiona Hardingham and Lorelei King. (2016)
Bivald's debut is a sweet tale of a big city girl (from Sweden) who comes to visit her book-loving pen pal in America, only to learn her friend has passed away. The narration alternates between letters from Amy to Sara in Sweden and Sara's experiences in Broken Wheel, Iowa - the epitome of small town America. Everyone, except Sara, knows everyone else and nothing happens anywhere in town that isn't instantly news for the local gossip mill. At first thrown by the whole situation, Sara decides to stay and is determined
, much to the surprise of the town's residents,
to honor Amy's memory by opening a book store. King's reading of Amy's letters goes nicely with Hardingham's British accented narration for the naive but charming Sara.
Fans of quirky, book-related stories might consider The Storied Life of A. J. Fikry by Gabrielle Zevin, read by Scott Brick. A good big-city-girl-comes-to-small-town listening match-up would be Louise Miller's The City Baker's Guide to County Living read by Jorjeana Marie.
---------- ----------
How about continuing in the dual narrator vein for August but branching into another genre? I discovered this slapstick comedy totally by accident while looking for a well-reviewed romance audiobook.
The Consequences of Seduction
by Rachel Van Dyken. Performed by Amy McFadden and Nick Podehl.
(2016)
AudioFile Magazine

named this an

Earphones Award Winner

, an award they give "
to truly exceptional titles that excel in narrative voice and style, characterizations, suitability to audio, and enhancement of the text.
"
Check out their full review online at
AudioFile
.
This is the third title in Van Dyken's 'Consequences' series and listeners might want to try The Consequence of Loving Colton and The Consequence
of Revenge
both of which are also narrated by McFadden and Podehl.
---------- ----------
I thought I might offer a title with more than one narrator for July ...
Girl in the Dark

by Marion Pauw. Performed by Emily Sutton-Smith & Scott Merriman. (2015)

The alternating narration of Sutton-Smith and Merriman is clean and clear throughout the recording and their expression adds to the suspense of the story. Iris accidentally discovers she has a brother her mother never told her about. Curious about this long-lost relative, she learns he is autistic and incarcerated in a mental institution, having been convicted many years before of two brutal murders. Ray has always maintained his innocence and naively cannot understand why no one believes him although his obsessive, sometimes violent, nature doesn't help. The performers compelling voices convey the anguish, anger, frustration and puzzlement of each sibling as well as providing a chilling portrayal of the cold, emotionless mother with which Iris and Ray must each contend.
Listeners who like suspense audiobooks with dual narrators, might try Elizabeth Wein's Code Name Verity read by Morven Christie and Lucy Gaskell or Gillian Flynn's Gone Girl read by Julia Whelan and Kirby Heyborne.
---------- ----------
For June, I offer something shorter
, it's only four hours long,
but such a pleasurable listening experience ...
Farr's fully voiced narration provides great listener engagement. The experience is like sitting comfortably in a room, across from Lucy, listening as she relates her life's story. The tale is told by an older, present-day Lucy as she recalls a prolonged hospital stay from years before. When her Mom unexpectedly comes to visit, Farr's narration smoothly transitions to a younger version, that of a daughter interacting with a parent she hasn't seen in years. Lucy's mother is portrayed by a slight change in accent reflecting a Midwestern heritage and different social climate. While short, this is one to savor.
Fans of Elizabeth Stout may want to listen to the unabridged version of Olive Kitteridge read by Sandra Burr or f
or another title that explores the mother-daughter relationship, consider
Sights Unseen
written and read by Kaye Gibbons.
---------- ----------
This audiobook might have been more appropriate if posted in March to tie in with St. Patrick's Day but I hadn't listened to it at that time, so for May might I suggest ...
The True & Splendid History of the Harristown Sisters
by Michelle Lovric. Narrated by Caroline Lennon. (2015)
This is the fascinating tale of seven impoverished sisters from rural Ireland, entertainers making a living off a unique talent - long, luxuriant hair that reaches to the floor. Being successful females during the latter half of the 19th century does not always lead to happiness though. The story centers around how the siblings are sadly and easily taken advantage of by the men in their lives as well as by their own eldest sister. Lennon employs a beautiful, culturally authentic Irish accent throughout the production with subtle changes in tone and expression to differentiate between the voices of each sister. When the setting moves to Venice, she demonstrates a comfortable familiarity with Italian place names that listeners are sure to appreciate.
Listeners wising for another Irish-centric audiobook might want to check out Ireland written and read by Frank Delaney. For another historical fiction title about sisters struggling in the entertainment industry, try The Tumbling Turner Sisters written by Juliette Fay and narrated by Katie Schorr and Eileen Stevens.
---------- ----------
For April, I offer

an

audiobook

that introduc

ed me

to the narrati

on

expertise

of George Guidall. It also brought my attention

to Vince Flynn's action-packed, spy series

featuring

Mitch Rapp.
Kill Shot: A
n American Assassin Thriller

by Vince Flynn. Read by George Guidall. (2012)
"George Guidall returns with the signature storytelling style he has created for the majority of Flynn's Mitch Rapp series. His deep, authentic voice adds weight and complexity this the fast-paced thriller. In this episode, CIA super-agent Rapp is pursing another terrorist, this one associated with the Pan Am 103 bombing over Lockerbie, Scotland. When the assignment goes awry and innocent civilians are harmed, Rapp works to clear his name and identify the mole amid his CIA handlers. Guidall's skill keeps the listener engaged with the suspense, passion, and violence. He has a strong command of tone and accents as he moves between male and female, American and European characters with ease. Guidall is an excellent way to experience Flynn."
AudioFile Reviews 2012 June
While I came l

ate to the

Mitch Rapp novels,
th

e

series can be read in any order according to the author. Listener's may want t

o keep in mind ...
"there is a storyline that develops along the way up through 'Pursuit of Honor.' 'American Assassin' then jumps to a time earlier than the rest of the books, and the storyline is followed up in 'Kill Shot.'" For more information, please see the FAQ page on the author's website.
---------- ----------
W

hy not try a fun audiobook about women in the workplace for March ...
The Knockoff: A Novel by Lucy Sykes and Jo Piazza. Narrated by Katherine Kellgren. (2015)
Haute couture and social media collide in an absurdly entertaining face-off between Imogen, a 40-something magazine editor, and tech-savvy Eve, her power-hungry former assistant. Kellgren nails technophobe Imogen's elegant tone as well as Eve's sharply contrasting Millennial vernacular, adeptly capturing New York City's fast-paced publishing world.
Listeners looking for more workplace rivalry might want to try Lauren Weisberger's
The Devil Wears Prada narrated by Bernadette Dunne. For those who enjoyed the transformation that came from overcoming supposedly insurmountable odds, consider listening to
Funny Girl by Nick Hornby, narrated by Emma Fielding.
---------- ----------
For February, how about a 2016 Listen List Award winning audiobook ...
And Only to Deceive

by Tasha Alexander. Narrated by Kate Reading. (2015)
After marrying to escape her socially pretentious mother, Lady Emily falls in love with the deceased husband she barely knew while investigating his questionable acquisition of Greek antiquities. Immersing listeners in 19 century English society, Reading's pitch-perfect accents and vibrant performance capture Emily's transformation from privileged aristocrat to newly-independent woman.
Some listen-alikes suggested by the award committee are: The Anatomist's Wife by Anna Lee Huber, narrated by Heather Wilds and Maisie Dobbs by Jacqueline Winspear, narrated by Rita Barrington.
---------- ----------
Let's kick off the new year with a Thriller for January ... :-)
The Forgers is an intricately plotted, suspense novel involving literary hoaxes, a murder investigation and death threats.
R. C. Bray's narration
is calm and dispassionate,
channeling the correspondingly cold precision of Will, a reformed forger caught in a web of secrets and deceit. The reading compliments Morrow's literary thriller steeped in rich details about books, book collecting and the world of forgery. Will is a well-educated, almost obsessive connoisseur of his 'art' and Bray draws the listener in with his eloquent elocution.
Listeners who enjoyed the exploration into the world of books and forgery might want to try The Art Forger by Barbara A. Shapiro, narrated by Xe Sands (2012). Those who liked the unreliable narrator aspect of the story should consider Paula Hawkin's The Girl on the Train, read by Clare Corbett, Louise Brealey and India Fisher (2015).