Some titles hitting the shelves next week ...
ADULT FICTION:
The Admissions by Meg Mitchell Moore - "A seemingly idyllic, affluent northern California family is tested by Ivy League ambitions, over scheduling, impossible expectations by the Bay Area elite and difficult personal secrets. By the author of So Far Away." (Baker & Taylor annotation)
Everybody Rise by Stephanie Clifford - "For centuries, New York City has been a magnet to dreamers with fantasies of catapulting themselves into the upper echelons of society. Unfortunately, as Evelyn Beegan discovers ... , the higher you rise, the farther you have to fall should you lose your grip on the social ladder." (BookPage Reviews, 2015 August)
A Pattern of Lies: a Bess Crawford Mystery
by Charles Todd - "A horrific explosion at a gunpowder mill sends Bess Crawford to war-torn France to keep a deadly pattern of lies from leading to more deaths, in this compelling and atmospheric mystery from the
New York Times
bestselling author of
A Question of Honor
and
An Unwilling Accomplice
." (HarperCollins, publisher)
Deceptions: A Cainsville Novel by Kelley Armstrong - "Haunted by visions of a blond child with an urgent message, Olivia Taylor Jones outmaneuvers her stalking ex-fiance while investigating how her destiny is being shaped by ancient scripts." (Baker & Taylor annotation)
Hostage Taker by Stefanie Pintoff - "Strong writing, a well-paced plot, and intriguing characters make this one of the best thrillers of the year. Fans of Lisa Gardner will find much to like here." (LJ Reviews, July 2015)
—
The Murderer's Daughter by Jonathan Kellerman - "Engaging in high-risk activities to escape from her regimented life as a psychologist, Grace Blades has a one-night stand with a man who turns our to be her new client -- one who claims a unique connection to Grace's foster father." (Baker & Taylor annotation)
Smaller and Smaller Circles by F. H. Bacatan - "Fans of forensic mysteries as well as readers who enjoy their crime fiction in under explored settings [The Philippines in 1967] will want to add this to their reading lists." (LJ Reviews, May 2015)
Friction
by Sandra Brown - "
Petitioning to regain custody of his young daughter in the aftermath of a reckless decision, a Texas Ranger intervenes during the attempted assassination of an attractive judge, who he risks his life to protect when the gunman escapes.
" (Baker & Taylor annotation)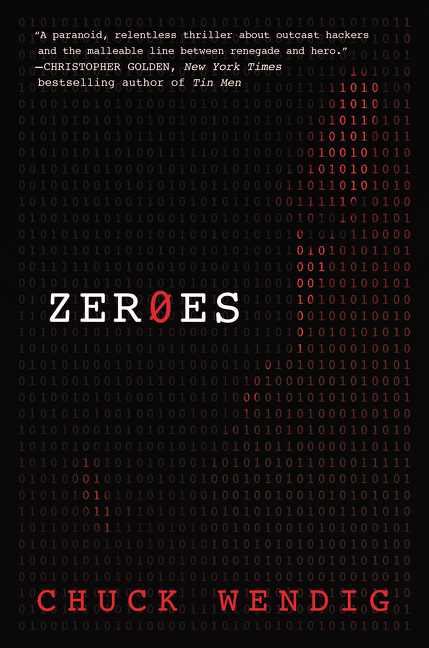 Zer0es
by Chuck Wendig - "
Five iconoclastic hackers are recruited against their will to serve the U.S. government by working as cyberspies before discovering an NSA artificial intelligence
program that is rapidly growing out of control.
"
(
Baker & Taylor annotation)
Fortunes Smiles
by Adam Johnson - "In six masterly stories, Johnson delves deep into love and loss, natural disasters, the influence of technology, and how the political shapes the personal." (Random House, Inc, publisher)
We Never Asked for Wings
by Vanessa Diffenbaugh - "When her parents return to Mexico, 15-year old Letty Espinosa is forced to become a parent to her young sister and considers a risky move that jeopardizes their fragile hopes for the future. By the best-selling author of
The Language of Flowers
." (Baker & Taylor annotation)
ADULT NONFICTION:
The Gratitude Diaries: How a Year Looking on the Bright Side Can Transform Your Life by Janice Kaplan - "How a year of being thankful led to big changes in a woman's life. When editor and producer Kaplan (A Job to Kill For, 2008, etc.) made a New Year's resolution to take a full year and show more appreciation in life, she didn't realize what a difference that pledge would make." (Kirkus Reviews, May 2015)
TEEN / YOUNG ADULT:
Court of Fives by Kate Elliott - "In this imaginative escape into an enthralling new world, World Fantasy Award finalist Kate Elliott's first young adult novel weaves an epic story of a girl struggling to do what she loves in a society suffocated by rules of class and privilege." (Grand Central Publications, publisher)
Legacy of Kings by Eleanor Herman - "This exhilarating start to the Blood of Gods and Royals series is a fascinating historical fantasy, bringing high drama, ardent romance, and dark magic to the tale of Alexander the Great." (Booklist Reviews, July 2015)